For the #1 Dumpster Rental Killeen TX Has to Offer, Choose S&P Dumpsters
Choose S&P Dumpsters for the #1 dumpster rental Killeen TX has to offer for residential and construction waste disposal. We're fully licensed, locally owned, and family operated, and we guarantee the best dumpster service at the most cost-effective rates. We aim to provide Killeen homeowners, businesses, and contractors with on-time deliveries they can trust.

We're proud to provide exceptional waste management solutions to our many clients throughout Killeen, Texas, and the neighboring communities of Bell County. We handle home renovations, demolitions, garage cleanouts, construction site waste removal, and every project in need of professional and reliable waste removal services in between. Whether you're embarking on a fun DIY home improvement project or managing a commercial roofing replacement, we're confident our years of experience and durable bins will help you get the job done right the first time.

The dependable team at S&P Dumpsters takes away the stress of hauling waste to the landfill with our dumpster rental Killeen TX can't complete projects without. Have a residential or commercial project coming up? Text or call us at (254) 938-5090 or reserve a dumpster online on our website today. Our team is here to help make your upcoming job a walk in the park. Let our experience work for you and book with our team of professionals today.
Holds 3x Pickup
Truck Loads
Holds 3x Pickup
Truck Loads
Holds 3x Pickup
Truck Loads
We Take Just About Everything
Some examples of the junk we haul away include
Refrigerator Disposal

Garbage Removal

Mattress Disposal

Foreclosure Clean Outs
Construction Waste Removal

Yard Waste Removal

Trash Removal

Appliance Removal
Television Disposal & Recycling

Furniture Removal

E-Waste Disposal

Hot Tub Disposal
Convenient Uses for a Roll Off Dumpster Rental Killeen TX Homeowners and Contractors Trust
You can now book a reliable roll off dumpster rental Killeen TX businesses, contractors, and homeowners use to complete a wide range of projects through our convenient online system. We provide temporary dumpsters for one-time projects as well as permanent dumpsters tailored to suit your business' waste management needs. With S&P Dumpsters, on-time dumpster delivery and friendly service are guaranteed.

Use the roll off dumpster Killeen TX residents trust to make disposing of waste following small and large projects as convenient as possible. Killeen residents know that we are the reliable dumpster rental company for dependable service and the best price dumpster rentals Killeen TX has to offer. What sets us apart is our commitment to providing consistently reliable dumpsters and exceptional customer support to all our clients.

As a local dumpster rental Killeen TX residents depend on year-round for affordable, efficient waste removal, we're also committed to ensuring waste is disposed of within city, county, and state regulations. We partner with the Killeen Transfer Station and nearby landfills to ensure that waste is disposed of in an environmentally-conscious manner. Don't hesitate to contact our friendly team at (254) 938-5090 for any assistance if you need a dumpster for your work site or any home improvement project. We're here to manage the mess so you can focus on more important things. Let us handle the dirty work and heavy lifting of waste removal on your behalf.

Reliable Killeen TX Residential Dumpster Rental that Homeowners Use for All Projects
Book the reliable Killeen TX residential dumpster rental local homeowners choose to support a range of projects. We have dumpster options that are ideal for small to large repair, renovation, or cleanout projects. Whether you're tackling a bathroom remodel, an outdoor shed demolition, or a full home cleanout, we've got the right dumpster for you.

Use the home dumpster rentals Killeen TX residents and property managers depend on to help complete your project quickly and efficiently. Our containers are available in a variety of sizes. Whether you're looking for a small dumpster for a DIY home cleanout or a large container for a large ongoing home renovation, we'll be happy to deliver one of our driveway-friendly options to your residence. You can book online or give us a call to schedule a delivery.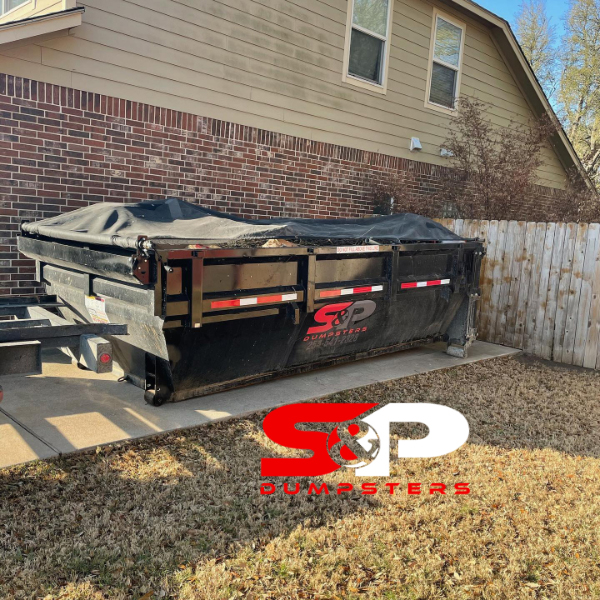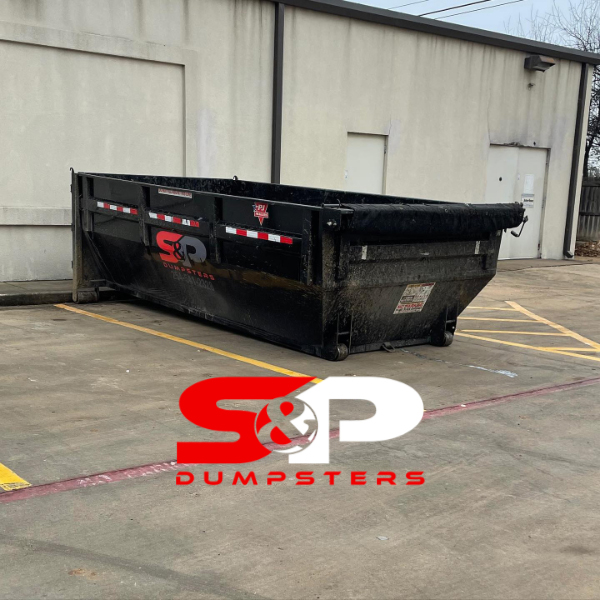 Contractor's Choice for the Best Killeen TX Construction Dumpster Rental
S&P Dumpsters supply the best Killeen TX construction dumpster rental contractors depend on year-round to handle tons of heavy-duty debris from a wide range of new construction projects, developments, and demolitions. You might have seen our large dumpsters on construction sites near you. From new building construction sites to large-scale commercial demolitions, our dumpsters can handle all your waste containment issues effectively.

Our containers are built to haul lumber, plastic, drywall, piping, and other forms of waste in a safe and efficient manner. Book the construction dumpster rental Killeen TX contractors and professional use at all their job sites. Call us today to arrange a dumpster delivery for a one-time cleanup or an ongoing construction project.

Commercial Killeen TX Roll Off Dumpster Rental that Businesses Can Depend On
Get the Killeen TX roll off dumpster rental local business owners choose for all their waste management needs. We're confident that your business will benefit from our reliable temporary and permanent dumpster services. Our customers include banks, apartment complexes, restaurants, retirement facilities, office parks, factories, and other commercial entities.

We're proud to be the waste management company local entrepreneurs, company owners, and property managers depend on for budget dumpster rental Killeen TX can't do without. Our roll-off containers are perfect for a range of commercial projects such as storage units' cleanouts, general maintenance, repairs, business location renovations, and general garbage management. Use our simple online booking to reserve a roll off trash dumpster rental Killeen TX business owners use for every project. Contact our friendly and helpful team at (254) 938-5090 to learn more.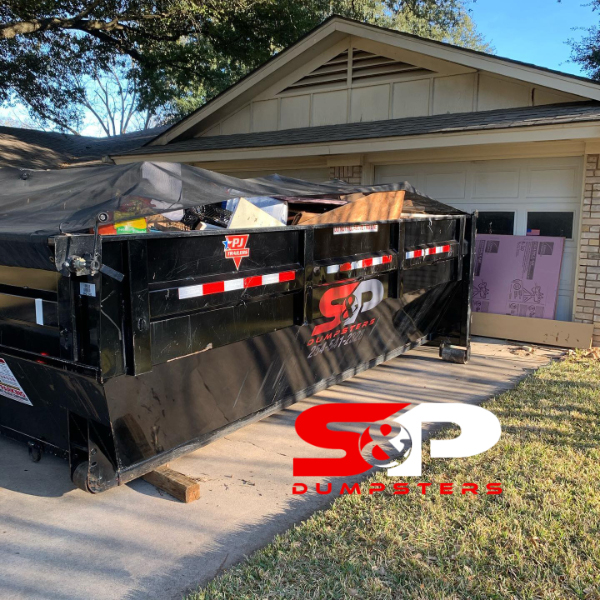 How to Book the Our 5-Star Reviewed Killeen TX Dumpster Rental Online
Booking a Killeen TX dumpster rental online from S&P Dumpsters is as simple as just a couple of clicks. With a simple dumpster rental process and a team of friendly staff available to guide you if you need some help, you can schedule a residential or commercial delivery in minutes. You can also call us at (250) 980-5090 to rent a dumpster Killeen TX trusts.

Simply follow the steps below to reserve a dumpster online anytime and anywhere:

1) Click on the red "Book Now" button or the "Dumpster Rental" tab in the header to view available roll-off container selections.
2) Check out the prices and sizing details of our dumpster selections (15-yard, 20-yard, and 30-yard), choose your preferred dumpster size, and click the "Book Now" button.
3) Indicate whether you're renting a dumpster as a contractor or homeowner and click "Continue."
4) Click on the "Choose Date" tab to fill in your preferred delivery and pick-up dates.
5) Confirm the dumpster size, pricing, and rental period then click on the "Checkout" tab.
6) Submit the delivery and payment details required and digitally sign the contract to complete checkout.

Booking our driveway dumpster rentals Killeen TX trusts is really that simple, and you can use your computer, tablet, or phone on the go. We'll send you a confirmation email with a digital copy of your contract and receipt when you submit the payment details and checkout. Expect a call from one of our team members before the delivery date to confirm your preferred drop-off window.

Don't hesitate to call or text us at (254) 938-5090 if you have any questions about our 5-star reviewed Killeen TX dumpster rental.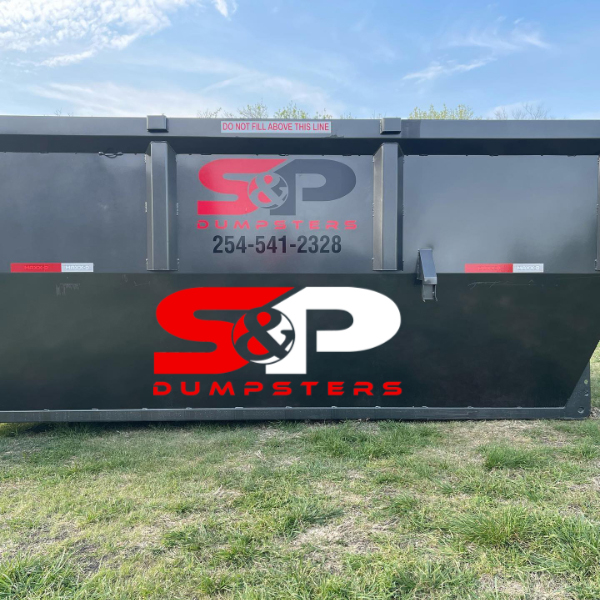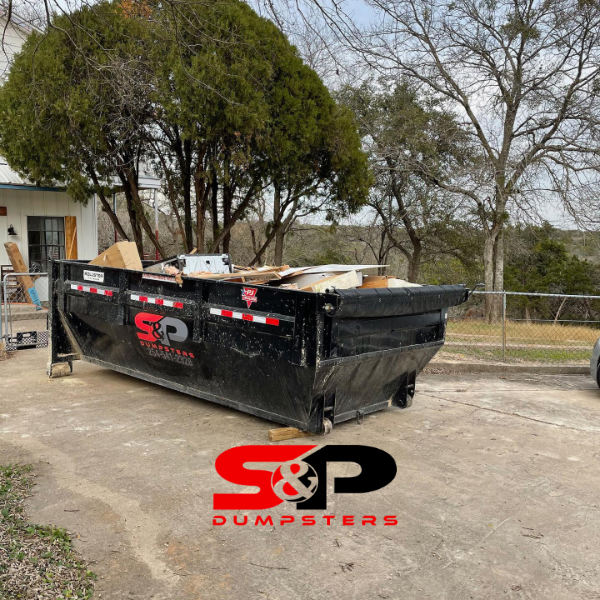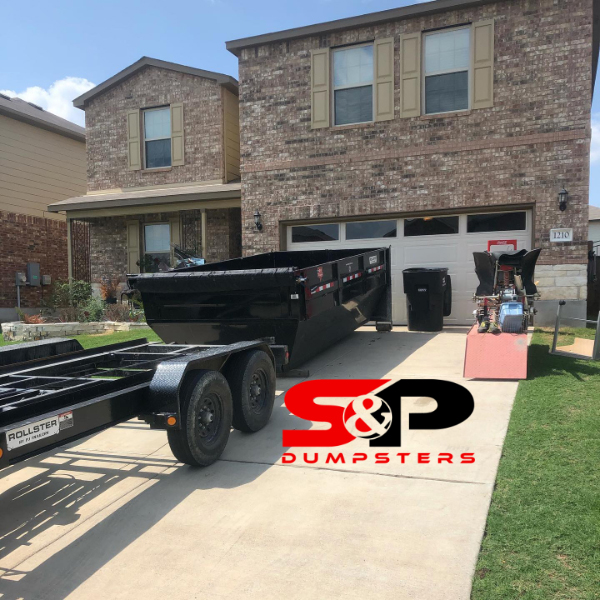 Sizes and Prices for Our Killeen TX Dumpster Options
Get value for your money with versatile dumpster sizes and affordable prices for our Killeen TX dumpster options for commercial and residential waste removal. Whether you're planning to do yard maintenance, roofing repair, construction site cleaning, or managing a foreclosure cleanout, we have the best dumpster selections for you. Below is our sizing and pricing guide. Select the right size dumpster for your project and reserve it online in minutes.

15 Yard: This is the dumpster for you if you're searching for a small dumpster rental Killeen TX residents use for small to medium home improvement clean-ups. It measures 14'L x 8'W x 4.5'H and is available at $305 for 1-4 days with two tons of waste disposal included.

20 Yard: Measuring 14'L x 7' 6"w x 6' H, this is a versatile dumpster for our customers, whether they need a commercial or residential dumpster rental Killeen TX trusts. You can reserve the 20-yard dumpster beginning at $410 for up to four days with two tons of waste disposal included.

30 Yard: Our biggest dumpster is the 30-yard and it is available at $650 for a 7-day rental with three tons of weight included. It's the perfect dumpster option if you're looking for a large dumpster rental Killeen TX residents or contractors use for heavy-duty waste removal projects.

We have no doubt that our Killeen TX dumpster options can comfortably meet all our clients' waste management needs. You can purchase a rental time extension at $15 per additional day. We charge $59.99 per additional ton for extra weight. Reach out to the S&P Dumpsters team at (254) 938-5090 for any questions about the dumpster rental near me Killeen TX counts on.

Temple TX Roll Off Dumpster FAQs
Renting a Temple TX roll off dumpster doesn't have to be a long, drawn-out process if you choose the professionals at S&P Dumpsters! We've got a straightforward dumpster rental process and a team of experienced staff to help you in case you need any assistance. Here are some frequently asked questions we receive from customers to give you an idea of our rental process. We're happy to address any further questions you may have, so don't hesitate to contact us.
Q.
Do you accept all types of waste?

A.
No. While we accept a wide range of waste and debris following commercial, residential, and construction projects, we do not accept hazardous waste. This includes paint, gasoline, chemicals, medical waste, and freon. Contact us to learn more about prohibited wastes.

Q.
How do you rent a dumpster in Temple TX?

A.
Click on the "Book Online Now" or "Dumpster Rental" tab on our website to view our dumpster options, their dimensions, and pricing in detail. Choose the dumpster you need, click the "Add to Cart" tab and simply follow the prompts. You can also text or call us at (254) 938-5090 to schedule a delivery.

Q.
Which is the best dumpster size for my project?

A.
We offer three Temple TX roll off dumpster options. The best dumpster for any project depends on the scale of the expected waste removal. Use the dumpster sizing information to choose the right dumpster for your project or give our team a call to learn more about your options.

Delivering Cost-Effective Solutions with the Highest-Rated Dumpster Killeen TX Can Count On
Contact S&P Dumpsters to reserve the best dumpster Killeen TX residents depend on for timely and effective waste removal. Our goal is to provide excellent customer support, flexible scheduling, and timely service. We frequently supply options for a roll off dumpster rental near Killeen TX to construction companies, local businesses, homeowners, organizations, and the Killeen Independent School District. We strive to do our part in keeping our communities waste-free and enjoyable places to live. Book online or call us at (254) 938-5090 to schedule a delivery.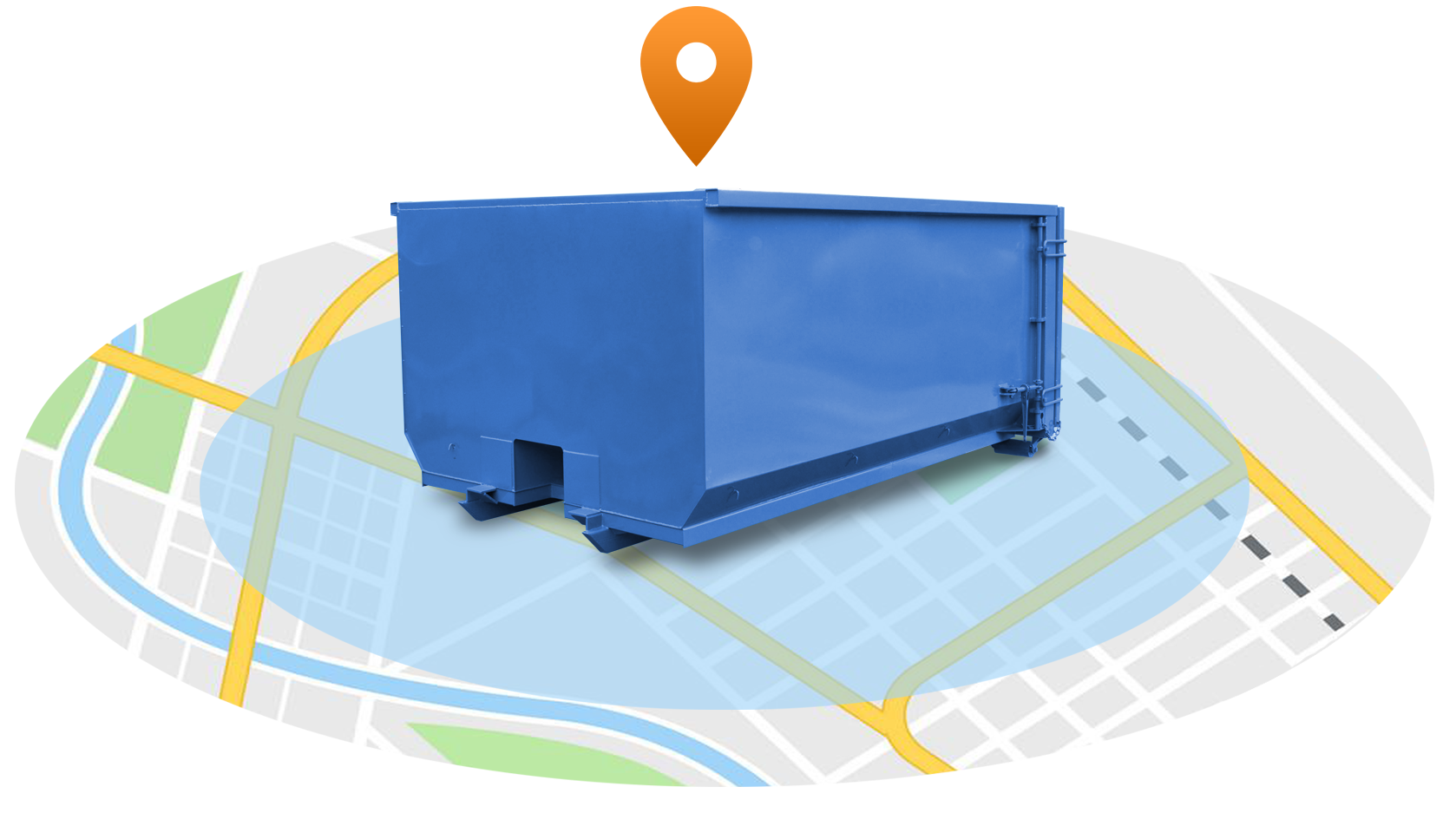 We deliver the highest-rated dumpster Killeen TX has to offer to contractors, homeowners, and businesses throughout Bell County in the 76541, 76542, 76543, 76544, 76548, 76549, and 76571 zip codes. Our service radius also extends to Temple, Belton, Troy, and Harker Heights. If you don't see your zip code, please let us know. We might be able to deliver an affordable dumpster rental Killeen TX residents count on to your location for an additional service fee.
Service Area
Choose the Garbage Dumpster Killeen TX Customers Give 5-Stars
We're proud to provide the garbage dumpster Killeen TX customers trust and we always love to see 5-star ratings, great feedback, and repeat business from our amazing clientele! We offer the most competitive dumpster rental cost Killeen TX has to offer in order to ensure that all our customers can utilize our efficient and invaluable waste disposal services.

Choose our Killeen TX garbage dumpster selections to manage large and small projects quickly and in a hassle-free manner. Whether you need construction, residential, or commercial dumpsters, we offer the best prices for waste containment with the team at S&P Dumpsters. Don't forget to check out our glowing reviews online!